AQHA WORLD CHAMPION!
At the 2017 Lucas Oil AQHA World Championship in Oklahoma City, Paul reined in another AQHA World Champion title in the AQHA Amateur Heeling event!
"LEATHER" – AVAILABLE NOW!
The brand new album is here! With 10 new tracks including "All That Cowboy Jazz," "George Jonesin'," "Buckaroo Lullaby" and the amazing title track, "Leather"!
"THE COWBOY WAY" – ACOUSTIC
After 1.4 million YouTube views, Paul wanted to re-record The Cowboy Way, and so he did that while in the studio recording the new Leather album.
The Christmas season brings opportunities to share joy and help those in need and I'm thrilled to participate in the Christmas 4 Kids Tour Bus Show taking place at the Walmart Supercenter in Hendersonville, Tennessee, TONIGHT from 5-9 pm CST.
read more
PROUDLY BROUGHT TO YOU BY:
LEATHER LIVE MUSIC SERIES!
We'll be releasing 6 live videos from the new album – keep an eye out right here for more!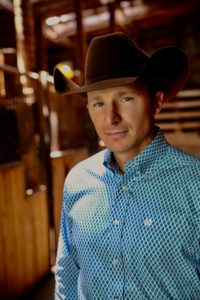 If you were to turn on an old transistor radio and tune it to a country station, you might hear legends like Merle Haggard, Hank Williams, and Johnny Cash crooning from the speakers…but newcomer Paul Bogart could just as easily fit alongside that vintage lineup. Though his songs are fresh and he himself is young, he is an old soul with a knack for capturing time-honored traditions and summing up classic sentiments in catchy, three-minute songs. Exuding sincerity and a rare, down-to-earth charm, Paul Bogart is, simply put, the epitome of traditional country music.
"All of my music just fits under a cowboy hat," Paul says with an honest laugh, explaining the straightforward appeal of his sound. "I want people to shoot straight with me – to just be real – and that's what my music is: honest, sincere songs that everyday people can relate to."
Possessing elements of a quippy, good-natured Brad Paisley song along with the boots-and-spurs appeal of a George Strait tune, Bogart's music additionally radiates authenticity, a core component of country music.
Produced by Trent Willmon (Little Big Town's "Rain on a Tin Roof," Montgomery Gentry's "Back When I Knew It All"), Leather is set to release on September 8th, 2017.
"Not only is Paul a great singer and writer, he is a real cowboy…
when he sings a song about it, he's lived it."
~ Trent Willmon, Sony Nashville recording artist & producer of "Leather"