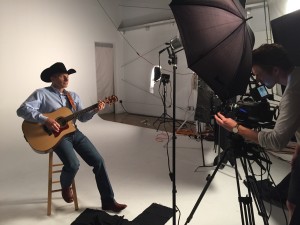 Paul is in the process of finishing the shoot for "Cowboy Ride," a music video tribute to the men and women who inspired generations…
From Paul:
I was recently on a two-week break from the road working on a new video of my song "Cowboy Ride" that you all will be hearing more about in the next few weeks and months.  I'm really excited about it because not only do I get to work with some extremely talented folks in this process, we are paying tribute to some incredibly talented folks as well and you all may know some of them.  We are tipping our hat to specific cowboys and horsemen who have helped shape the lifestyle of the American Cowboy.
It should be ready mid September, and I can't wait to finish it and I can't wait for you guys to see it.  AQHA provided a number of historic photo's we intend to use in this video.
From Director Deb Haus:
The concept for this video is a simple yet impactful one. The main goal will be to compliment the lyrics and spirit of Paul Bogart's moving song, "Cowboy Ride" in a tastefully crafted way that will also pay tribute to the men who have best defined the contemporary real-world cowboy lifestyle.
The B-Roll will feature stills and video of real-world (not Hollywood) cowboys that have passed, but still inspire so many in the cowboy-way and rodeo lifestyle. This will ultimately be a TRIBUTE VIDEO to all of those who have inspired the younger "cowboy" generation.